Ken Harker WM5R
1998 ARRL June VHF QSO Party - K8GP M/U
---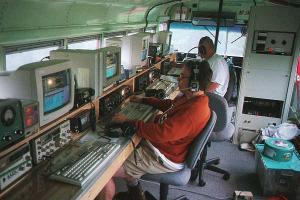 Ken Harker KM5FA and Chris Patterson WA3HMK.
Click for more photos.
I had the privelege of operating the 1998 ARRL June VHF QSO Party with the Grid Pirates, K8GP. The operation took place near the summit of Spruce Knob, WV, FM08fq. Spruce Knob is a National Recreation Area, and is the highest point in the state of West Virginia.
I arrived an hour or two before the contest in driving rain, which really made driving the last nine miles of dirt road to the summit quite exciting. It was pretty much rain, fog, mist, and cold damp for almost the entire weekend. There was a break in the clouds for about forty-five minutes or so, starting around 1845 UTC on Saturday. As all stations were manned and the contest had just gotten underway, I took advantage of the moment and went on walkabout around the summit area and took some photos. It was the last time we saw the sun that weekend.
This was my first-ever VHF mountaintop contest experience. For someone who operates extensively from a point of low elevation in South Texas, it still amazes me how easy it was to work 400+ mile paths of 2M troposcatter...
---
| Band | QSOs | Grids |
| --- | --- | --- |
| 50 MHz | 763 | 199 |
| 144 MHz | 477 | 64 |
| 222 MHz | 123 | 42 |
| 432 MHz | 218 | 52 |
| 902 MHz | 33 | 20 |
| 1.2 GHz | 52 | 28 |
| 2.3 GHz | 15 | 9 |
| 3.4 GHz | 8 | 5 |
| 5.7 GHz | 3 | 3 |
| 10 GHz | 2 | 1 |
| 24 GHz | 1 | 1 |
| Totals | 1689 | 424 |
---