Ken Harker WM5R
2000 ARRL November Sweepstakes, CW N5XU M/S
---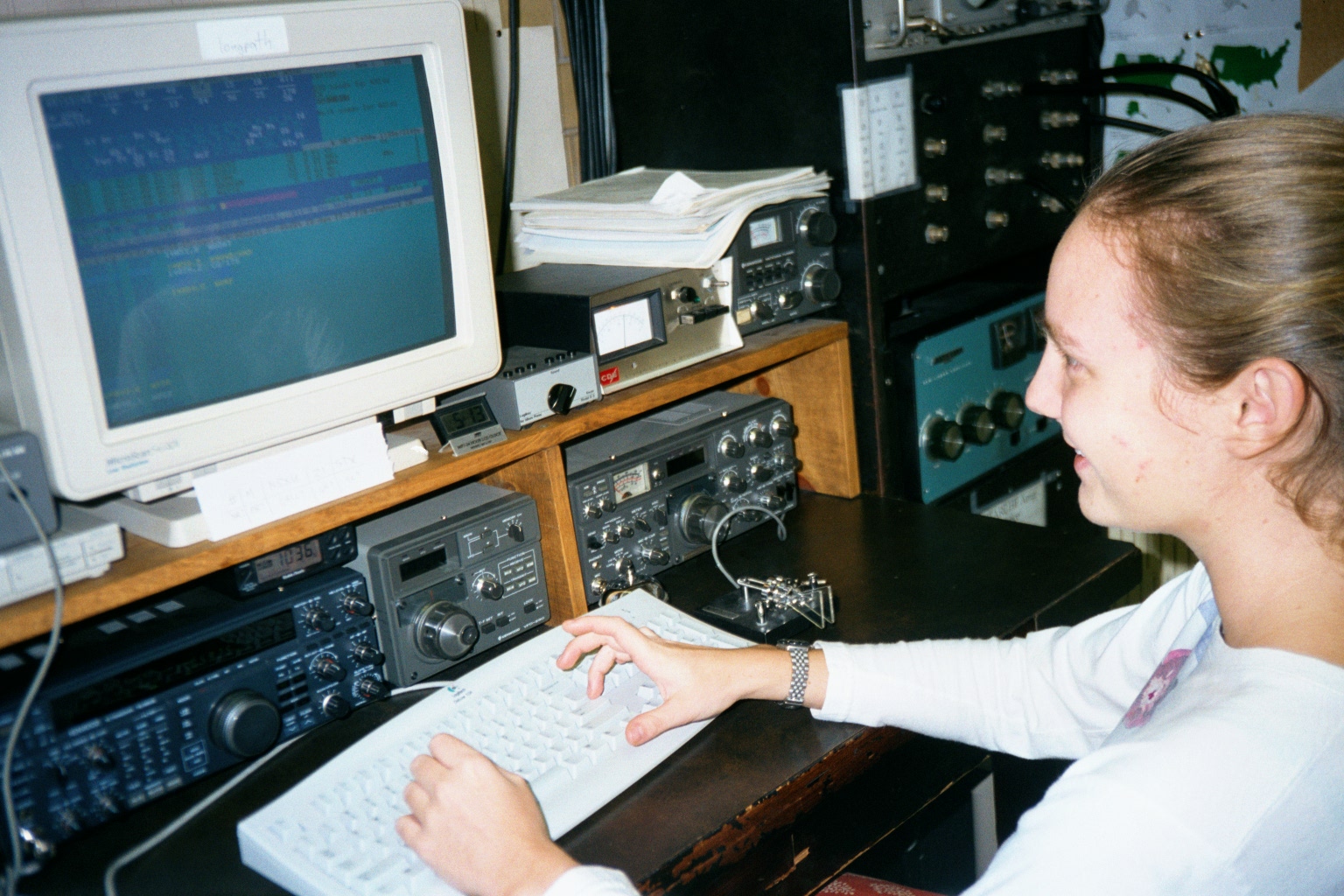 Louisa Preston KB5LBN makes CW contacts at N5XU
during the 2000 Collegiate Championship
N5XU participated in the Collegiate Championship conducted during the weekend of 4-5 November 2000. We operated in the Multioperator Single Transmitter (M) class, with KB5LBN, W5JLP, N3TNN, KT5I, and WM5R operating.
Most of this contest, we called CQ in the 15-18 WPM range. Kevin KT5I can go much faster than this, and for the little bit when he was operating, our rate was much better, but our other four operators are all still in the 13-18 WPM comfort range. Since almost nobody else in the contest is going that speed, the only way to make more than a few shaky contacts is to go way up the band and call CQ. Unfortunately, the majority of operators (including many well-known contesters) answered our CQs at speeds faster than us, and in many case much faster than us. Last year, we thought it was a vast majority, so maybe more people are slowing down to meet our speed. Still, plenty of people who should have known better answered at 23-25 WPM or higher.
There seemed to be a lot of QRPers on the air this weekend. Way more than last year. This made things a little tougher, as many answered our CQs with very weak signals. Also, we noticed a lot of signals, predominantly from the QRP ops, but also sometimes from A ops, with very bad character spacing and weighting. We don't know if they are trying to be helpful, or they're just clueless, or what. We heard dahs that were everywhere from 1.5 to 7 dit lengths long. One VE3 in particular was going at exactly our speed, was loud enough, and would have been an easy QSO, but his dahs were about 7 dit lengths long, and it was like a whole other language! There were still other QRPers sending in an extreme Farnsworth-style. In one case, the average speed was about 17WPM, but the individual characters were being sent at 30-35WPM! None of us remembered this proliferation of CW wierdness last year. Maybe those operating lower in the bands didn't encounter so much of this.
Since we couldn't really S&P much, we relied upon the mults finding us. Happily, most of them did, but it still wasn't a clean sweep. We missed Nwt, Ab, Qc, Pr, and Ar.
We stopped about forty minutes before the end because of the storms rolling in (between the radio static and the rain pounding on the AC unit in the window, it was getting hard to hear anything, and we started seeing lightning,) and because the rotor stuck to the SW right after working KH8/N5OLS, and because the only remaining operator was exhausted.
---
Score
The score below is claimed.
| Band | QSOs | Points | Mults |
| --- | --- | --- | --- |
| 40CW | 47 | 94 | 9 |
| 20CW | 158 | 316 | 17 |
| 15CW | 183 | 366 | 32 |
| 10CW | 83 | 166 | 17 |
| Total | 471 | 942 | 75 |
---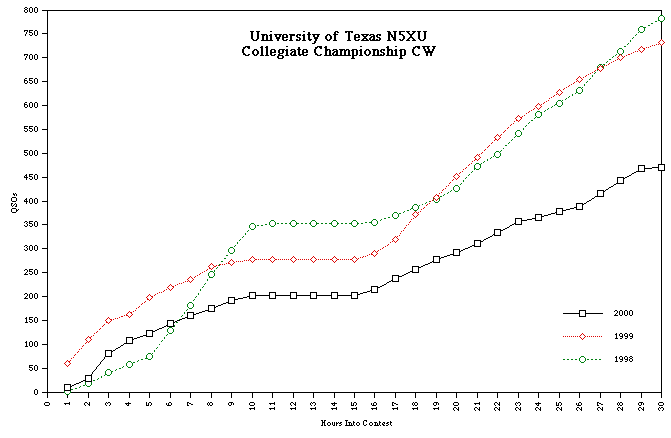 ---
Contest Logging was done with TR LOG contest logging software. The following reports and log were created using TR LOG's post-contest processor.
---