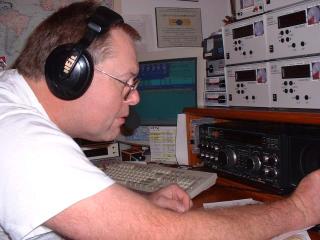 Gator Bowen N5RZ (click for more photos.)
This was my second serious phone DX contest with the N5TW contest team, and it was the first time that N5TW tried the multi-operator, single-transmitter category in the CQ World Wide DX Contest.
It was a lot of fun to operate with Gator N5RZ and Pete N5TR. Gator had just been selected as a competitor in the World Radiosport Team Championship (WRTC) 2002 that was held in Finland, in the summer of 2002.