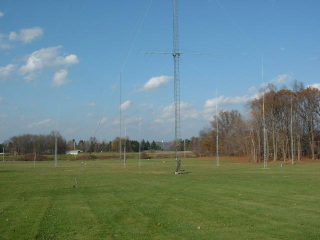 The field of low-band antennas at K3LR. (Click for more photos!)
I was invited to operate with the K3LR team in the 2004 CQ World Wide DX Contest, Phone. K3LR is in western Pennsylvania, very near to the Ohio border. We operated in the M/2 category, finished in first place in the USA, and set a new USA record score (results pending.)
This was my first HF contest experience outside of W5, and the first time I have travelled specifically to operate a radio contest. I was really impressed by the team (K1AR, N2NC, K3UA, N3GJ, N3SD, N4HY, K4SQR, N5NJ, WM5R, KI7WX, W9ZRX, K3LR.) Five of the twelve operators on our team were WRTC veterans. I ended up making at least a few QSOs on every band except 80 meters, and I was able to run stations on 40, 20 and 10 meters.
Propagation in WPA is completely different from STX. We could run Europe almost around the clock on 20 meters, and could actually run Europe on 40 meters during any hour of common darkness. In STX, running Europe at any time on 40 meters is a real challenge, and there are very definite European and Japanese run times. From WPA, Japanese stations were a little rarer on all the bands.
Being at a winning station during the 3830 psot-contest discussion is fun.